Solstice of Heroes
2021 Seasonal Event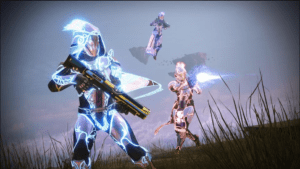 ---
Earn The Magnificent Armor Set By Upgrading The Solstice Of Heroes Armor
The Solstice of Heroes is an event that marks the end of the Season Of The Splicer. With it comes a whole new set of Destiny 2 cosmetics including Ships, Sparrows and Shaders as well as a brand new armor set with a new way of unlocking the unique armor glow effect that come with this set. To unlock the armor glow you will need to upgrade each armor piece 3 times by completing specific sets of objectives in Destiny 2 activities and in the returning seasonal activity; the European Aerial Zone.
---
How To Acquire The Solstice Of Heroes Armor Set?
Once the event starts, Eva Levante will be in the tower and she will give you a quest to complete the returning seasonal activity, the European Aerial Zone. Upon completing the activity you speak to Eva and she will give you Renewed Armor, the base set that you will start upgrading. There are 3 stages to upgrading the armor set, from Renewed to Majestic and finally Magnificent.
For a more specific breakdown of the specific steps and to purchase individual armor piece upgrades see Solstice of Heroes – Armor Set Upgrades
---
Majestic Armor Set Upgrade
Requirements to fully upgrade the majestic armor set:
Complete a nightfall ordeal on Master difficulty
Complete a Nightmare Hunt
Complete the Pit of Heresy Dungeon
Win Seven Trials of Osiris Matches (does not include flawless)
Complete a Tier 5 Altar of Sorrow three times
---
Solstice Of Heroes Packages
You can earn Solstice Packages by opening chests in the European Aerial Zone. These packages can be unlocked by using Solstice Key Fragments that you earn by completing any activity during Solstice of Heroes. Once you've earned Legendary Solstice Of Heroes armor the packages will reward you with additional armor, so you can grind for the perks you want!
REWARDS – Legendary gear, Enhancement Cores and Material
---
Requirements:
You must meet the requirements for activities in the service
This service is Play For only. Our team will sign onto your profile to complete the service. Make sure you fill out our checkout form, you will receive a text and an email when our sherpas are signing on
---
Frequently Asked Questions:
How long will this service take to complete?
We aim to have any service ordered completed within 24 hours, however this does depend on the availability of the playlist and some products may take longer depending on the activity.
If I order an account recovery how do I know you won't mess with my account?
This is a very common and fair question that we get asked often.
We are a legitimate website with thousands of completed orders over many years and reviews from many real, satisfied customers just like you, but don't take my word for it. Here are reviews from some of our most recent customers: https://sherpasofdestiny.com/reviews/. At the end of the day, we know that you providing your account to us to complete something for you takes a lot of trust and we take that very seriously, with a 100% guarantee that any damage to your account as a result of your work with us will be fixed entirely out of our pocket. For further peace of mind and accountability, we do encourage that you change your password to a temporary one for any service you receive and change it back after.
If I order an account recovery how will I know when you are signing on?
Sherpas will aim to contact through text assuming regions are suitable, otherwise we will contact you at your email. As such it is highly recommended to include both and make sure they are up to date
Do I require any specific weapons or armor?
Outside of specific situations, we don't require any specific gear. Our sherpas are more than happy to work with whatever you have and can use Destiny Item Manager and your collections to optimize their loadouts.
For any other questions feel free to contact us or ask one of our live chat attendants who will be happy to assist you