Adored
Weapon Questline
---
Do not miss out on this new sniper rifle!
This weapon is obtained by completing a questline in either Crucible, Gambit or Vanguard.  Adored is a sniper rifle that deals ARC damage and is equippable in the energy weapon slot.  Don't spend all day grinding away, let the Sherpas of Destiny lend a helping hand!
Adored Sniper Rifle

Adored Sniper Rifle Playlist Ornaments

---
What is the Adored Sniper Rifle?
The Adored Sniper Rifle was added in Season of the Hunt as the seasonal ritual weapon. This means that it has two sets of perks that do two different things. In the case of Adored it has one set of perks geared towards PvE and one set geared towards PvP. You have the perk combination of triple tap + vorpal weapon for boss and major killing in PvE and for PvP you have the best new sniper rifle perk combination of Killing Wind + Snapshot so far in the Beyond Light sandbox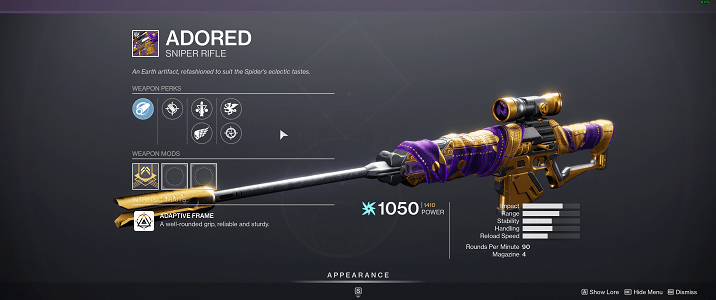 ---
Requirements
Must have completed the Beyond Light Campaign
Must have the Beyond Light DLC