Adored
Weapon Questline
---
Adored – Ritual Weapons – Destiny 2
Adored is the ritual weapon you need for your quest in Destiny 2. It offers more traits, greater power, and the versatility you need. Adored has a combination of elements that make it an excellent weapon in both PvE and PvP situations. In short, you want to get Adored!
Adored Sniper Rifle

Adored Sniper Rifle Playlist Ornaments

---
How to Get Adored
To earn this prized weapon, you have to complete one of three quests.
Strikes in your Sights, which is obtained from Zavala, includes requirements such as killing 40 bosses, defeating 1,000 combatants, and earning 300 points by defeating enemies with Sniper Rifles. Fortunately, team kills count, so you are not required to deliver the final blow to earn credit toward Adored.

In Crucible in your Sights, which is obtained from Shaxx, you will need to start by earning three Valor ranks, defeating 500 Guardians in the Crucible, and earning 200 points by defeating Guardians with Sniper Rifles. The quest continues from there.

If you choose Gambit in your Sights from the Drifter, you will begin your work by earning three Infamy ranks, earning 250 points by defeating Gambit enemies with Sniper Rifles, and defeating 300 combatants with precision final blows.
What is the Adored Sniper Rifle?
The Adored Sniper Rifle was added in Season of the Hunt as the seasonal ritual weapon. This means that it has two sets of perks that do two different things. In the case of Adored it has one set of perks geared towards PvE and one set geared towards PvP. You have the perk combination of triple tap + vorpal weapon for boss and major killing in PvE and for PvP you have the best new sniper rifle perk combination of Killing Wind + Snapshot so far in the Beyond Light sandbox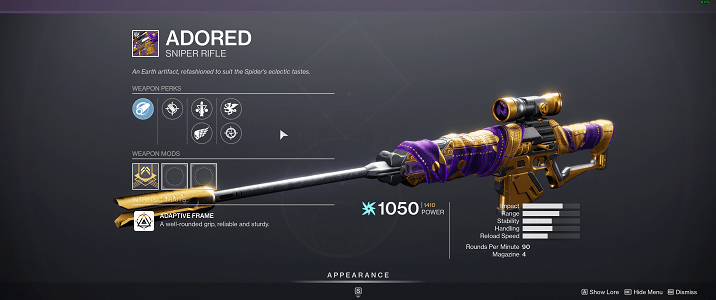 ---
When to Use the Adored Sniper Rifle
Adored can be used in both PvE and PvP content. With Triple Tap and Vorpal Weapon, Adored excels in much of the PvE content you will encounter. Meanwhile, Snapshots Sights and Killing Wind make it extremely useful in PvP settings. Adored should be used in PvP content while Killing Wind is active.
Adored was added in the Beyond Light expansion of Destiny 2. It carries on the legacy of the famous Beloved Sniper Rifle and is the weapon to earn now.
Requirements
Must have completed the Beyond Light Campaign
Must have the Beyond Light DLC
Become a Better Guardian Today!
Earn the Adored Sniper Rifle and unlock the power you need to become a better Guardian.