Black Armory
Forge Completion
Season of the Forge introduced the Black Armory and with it new 3-man activities. Volundr Forge, Gofannon Forge and Izanami Forge.
Ada-1 will give you a quest chain that you need to complete to unlock the forge and also reward you with a Black Armory weapon once you complete the specific forge quest. You will also need to complete the forges for weekly and weapon bounties from Ada-1.
---
Quest Steps
1. Stolen Black Armory Gear
Defeat fallen until you get a Stolen Black Armory Gear item.
2. Gather Additional Tainted Gear
Eliminate Fallen with precision kills to collect tainted Black Armory Gear.
3. Needle in The Tangled Shore
Capture a Wanted Fallen emerging from a cryo-pod in the public event at Thieves Landing & Defeat Fallen with melee damage on the Tangled Shore.
4. Scourge of The Armory
Fallen caches investigated.
5. Siviks's Delivery Note
Track down roaming Captains on Nessus to further pinpoint where the tainted gear originates from.
6. Origin: Nessus
Investigate Siviks's center of operations to track the origin of the tainted Black Armory Gear.
7. Another Lost Forge
Explore an uncharted location on Nessus and locate the lost forge.
8. Basic Sniper Rifle Frame
Recover a Weapon Core from a stolen Black Armory crate in Artifact's Edge or the Hallows on Nessus. Obtain Compound Ether from the Fallen to charge the Weapon Core.
9. Sniper Rifle Alpha Frame
Get precision kills and defeat powerful enemies with Sniper Rifles to start the calibration.
10. Sniper Rifle Beta Frame
Get multikills with Sniper Rifles to finish the calibration.
11. Sniper Rifle Calibrated Frame
Collect Radiant Seeds by defeating powerful enemies.
12. Radiant Sniper Rifle Frame
Craft the Black Armory Sniper Rifle by completing a Gofannon Forge ignition on Nessus.
---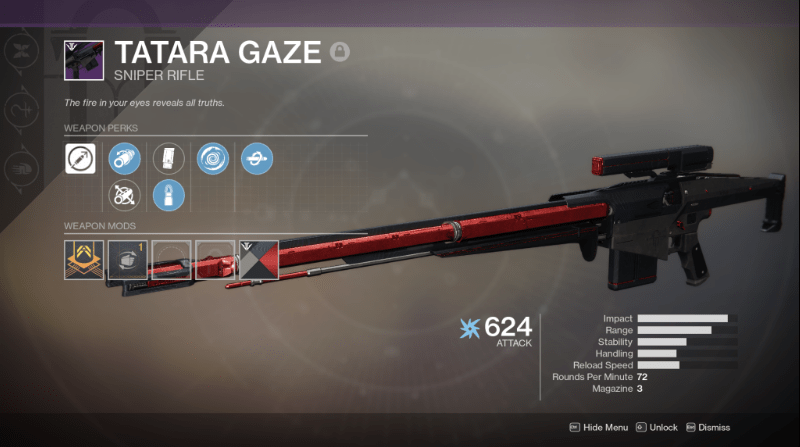 ---
Extras!

   Black Armory Key – A secret key that unlocks the Hand lock in the Mysterious Box quest step.

   Rasmussen's Gift – Secret Emblem (Requirement: Must have Hammerhead Machine Gun)

   Satou's Secret – Secret Emblem (Requirement: Must have Tatara Gaze Sniper Rifle)